Help us Raise Money for New Band Uniforms
October 13, 2017
The Band program in Sidney has a storied history of excellence in the community, as well as in Southwest Iowa. The band program graduates a special type of student – one that is well-rounded, dedicated, disciplined, and musically proficient. The current band program is going strong. We have 127 students involved in the band program grades 5-12, and the high school band holds steady at 47. We had an impressive performance at the annual SWI Band Jamboree, earning 2nd place (out of 20 1A Bands) in the parade for the second year in a row!
The band program has a lot to celebrate these days. Last May, our school board approved a purchase of over $30,000 worth of new instruments for the band program. We purchased four new timpani, a sousaphone, two tenor saxophones, a beautiful marimba, and a brand new Ludwig Trapset for Jazz Band. In the time I've been the director of this program, we have replaced the marching band banner, flag uniforms, our entire drumline, and have added a new piccolo, baritone saxophone, sousaphone, marching bell set, concert baritone, and a variety of other instruments to our inventory. What an exciting time to be a part of the band program in this school district! We have revamped much of our instrumentation, and would like to now update our band uniforms.
The current Sidney Pride Marching Band uniforms were purchased in 1989. The students have worn these uniforms for many years during warm Popcorn Day parades, chilly Southwest Iowa Band Jamboree performances, and Spring Large Group Festivals, along with a variety of other events. It is a proud and defining moment when a Sidney student wears a Pride uniform for the first time, as well as the last. The Sidney Music Alliance (our parent music booster group) is interested in fundraising to purchase new band uniforms. Below, you will see our new uniform design.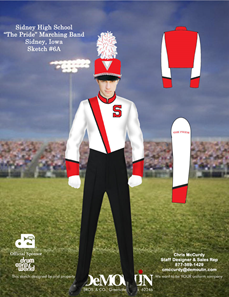 In order to purchase new uniforms, it requires an incredible financial investment, and we need help from kind people like you. The cost of one new uniform is $400, and we hope to purchase 70 uniforms. Any contribution you can make would be appreciated!
Here are a few ways you can donate to this great cause:
You may go online to our fundraising website:
https://www.gofundme.com/sidneyprideuniforms
For a tax-deductible donation, send checks made payable to:
Sidney Alumni & Friends, Inc.
PO Box 322
Sidney, IA 51652
*Please let us know when you send your donation if you would like a receipt for your donation. We will send a receipt for tax-deductible donations ONLY if we get notification to do so.
Send a donation (check only) to the Sidney Music Alliance:
Sidney Music Alliance
c/o Nicole Zavadil
2754 Knox Road
Sidney, IA 51652
Thank you for taking the time out of your busy schedule to read this letter and consider our cause. We appreciate any support you can give to this great cause! Feel free to contact Mrs. Zavadil with questions: nzavadil@sidney.k12.ia.us.